May 3, 2018
This is part 4, of this four-part series of the Practice of Therapy Podcast, "Love the Work, But Hate The Job". In this session, Gordon talks about marketing and developing referral sources as you start and grow your private practice. This four-part series discusses the various steps and things a clinician might want to think about as they move into private practice. Especially those people making the transition from agency work into private practice. The series discusses: 1.) Knowing your "WHY", 2.) Making a Plan, 3.) Setting-up an Office, and 4.) Marketing & Getting Referrals.
Check out the mini-course: "Love the Work, But Hate The Job"

In this course, you will be emailed 4 lessons, one each day, that will walk you through a way to think about making the transition from agency work into private practice. (Get the discount here!)
Marketing and Referral Sources
"Marketing" is a word most of us therapist types shy away from. The idea of "selling" anything really rubs us the wrong way. In fact, unless a person has had any experience in business or in marketing, it can seem daunting. Most of us in this field have not had that.
I think it is important to think about it differently though.
My friend and colleague, Allison Puryear, puts it this way: "Marketing your private practice is simply helping the people that need and want our services find you…" I like thinking about it that way!
Marketing your private practice simply comes down to making it easier for people to find us. It's getting your name in front of the people that you can best help. It does not have to be pushy or "salesy".
Clients Come to Us In Two Ways
If you think about it we get clients is two ways. One is they search us out on their own because they are struggling with some sort of personal issue in some way. Typically they will do an internet search or ask for some sort of recommendation from someone. The second way is through some sort of referral or suggestion from someone that they come to us; typically a doctor or other professional.
So when you think about getting clients there are two areas to focus. One is online and the second is through referral people.
Online Marketing
Needless to say, in this day and age, having a website is a must. This is especially true for those just getting started and developing a client base. For the majority of people, they "Google it" first. So having an effective website should be a priority when it comes to getting a private practice started. It is your "marketing hub".
Two Ways To Have A Website
First is to create a website yourself. This a good choice for someone that has a bit of tech-savvy and the time to do it. Especially when you are in that "bootstrapping phase" of private practice.
What this involves is creating your domain name and getting a hosting service to house your website. I recommend Bluehost for this. (You can learn more about that here.) And if you want to learn more about creating websites and be in a do-it-yourself mode, a good resource is Daniel Fava's, CreateMyTherapistWebsite.com (affiliate link)
The second way to have a website is to have someone else create it for you. For this, I recommend Brighter Vision. They are the experts in helping counselors and therapists build beautiful websites. They also help with SEO (Search Engine Optimization) which helps your website get ranked higher in Google. In fact, therapists websites are all they do. BrighterVision (affiliate link -use this link to get one month free)
Blogging
One of the best ways to boost your SEO and establish yourself as an expert, is to blog. Blogging does not have be overly complicated and should be treated like writing a research paper. Use short paragraphs and put things into simple, ordinary language. Write to your clients and the struggles they are having.
Developing Referral Relationships
Besides having an online presence, developing referral relationships is a tried and true way to bring in new clients. AKA, "networking" is truly about developing relationships. If you think about it, it is what we do best as therapists and counselors. We do it all the time with clients.
Networking can be simply be dropping off business cards or rack cards to doctors or other professionals to use for referrals of patients. It could also be getting together with potential referral people for coffee or lunch.
One tool that I use is a "coordination of care" form. (You can get a link to that by downloading the free Marketing Cheat Sheet). I get an "authorization to release" and send the coordination of care form and a practice flyer (information about my practice) to doctors of the clients I am seeing. The doctor and client appreciate the contact and the doctor becomes aware of my practice.
Other ways to develop referral sources is to just simply become involved in your community, especially with other professionals. When people know you, they will refer to you.
Put In the Sweat Equity
Marketing your practice is something that does take some time. But the pay off is that you will develop a steady stream of referrals and clients that can come to you. Marketing and getting referrals is ultimately about developing relationships with people both on and offline. It's helping the people that need and want your services find you.
Resources Mentioned
Marketing Cheat Sheet
Disclaimer: Some of the links to products and services in this post are affiliate links. That just simply means we receive a commission, at no extra cost to you, if you purchase using those links. Thanks for using the links!
Meet Gordon Brewer, MEd, LMFT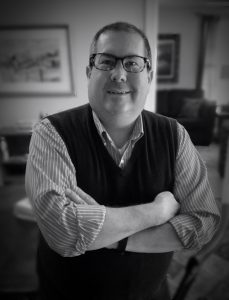 Gordon is the person behind The Practice of Therapy Podcast & Blog.He is also President and Founder of Kingsport Counseling Associates, PLLC. He is a therapist, consultant, business mentor, trainer and writer. PLEASE Subscribe to The Practice of Therapy Podcast on Apple Podcasts, Stitcher and Google Play. Follow us on Twitter @therapistlearn and Pinterest "Like" us on Facebook.