May 2, 2018
This is part 3, of this four-part series of the Practice of Therapy Podcast, "Love the Work, But Hate The Job". In this session, Gordon explores some of the logistics around setting up an office and getting started with your private practice. This four-part series discusses the various steps and things a clinician might want to think about as they move into private practice. The series discusses: 1.) Knowing your "WHY", 2.) Making a Plan, 3.) Setting-up an Office, and 4.) Marketing & Getting Referrals.
Check out the mini-course: "Love the Work, But Hate The Job"

In this course, you will be emailed 4 lessons, one each day, that will walk you through a way to think about making the transition from agency work into private practice. (Get the discount here!)
Setting Up The Office

One of the very first things you have to figure out, logistically, about going into private practice is where and how you will see clients. The good news about doing talk therapy is all you really need is a couple of chairs and place to meet that is private and has very few distractions. The truth is, that could be just about anywhere.
But, we need a little more than that for ourselves and for our clients. For example, a waiting and reception area is nice to have. Also, a comfy, warm and inviting therapy room makes a big difference too. We want our clients to feel at ease and safe when they come to us.
Finding the right place to meet with clients sometimes takes some creativity and willingness to "think outside the box". For most people getting started in private practice, there needs to be some flexibility in order be a bit more frugal. You really can't afford a huge office with all the "bells and whistles" in those beginning stages.
Finding an Office Space

There are a lot of things you want to take into consideration in getting an office to see clients. Location is important. Also thinking about how clients get in and out of the space. It's better to not have a lot of stairs (I did that and it was a barrier for some clients). Also thinking long-term as you grow; will the space support your growth?
A good place to start is just looking online and in directories like Craigslist. Keep an eye out for places as your drive around town or begin to look. Sometimes people will only advertise by having a sign out in front of an office space. I know too, letting friends and other folks know you are looking for an office space can bring some results. Use social media to help let people know you are looking. Also maybe consider talking to a realtor who specializes in office space.
Bootstrapping and Sharing Office Space

The normal progression of being in private practice is that you will want to do a lot of "bootstrapping" in those beginning stages. In other words, you leverage your time while you have a lot of it. You also want to be able to save as much money as possible as you build your financial assets in the practice.
Depending on where you are located, office space may be easy to come by or not. Usually, if there is a lot of spaces available, the prices will be more competitive. Needless to say, it makes sense, in those beginning stages, not to overextend yourself financially by spending a lot on office space. After all, office space will be one of your bigger, if not the biggest, expense you will have with running a private practice.
For this reason, subleasing or sharing office space just makes sense. And it doesn't need to be another therapist's office either. You could rent or sublease space from any other professional (lawyers, doctors, chiropractors, etc.). Also, look into churches, synagogues or other civic organizations that might have the extra space.
Group Practices
One thing to not overlook is considering joining a group private practice as an independent contractor. Depending on their business model, many group practices do a "fee-split" with the clinicians they contract with. The advantage is that your "overhead" is already taken care of by the fee split.
Depending on how it is structured, you might do better, in the long run, to work within a group practice than trying to go out on your own and build the referrals and client base you need. Also, it might be that you would come out better financially by not having to worry as much about the cost of being in practice.
Non-Traditional Services
Another thing to consider when getting started in private practice is to look into teletherapy or online therapy. It is something that is certainly growing and lucrative for a lot of people. In fact, some people have built their whole practice around this model of delivery.
Another delivery method is to go to the clients, rather than them coming to you. In-home therapy is offered by a lot of agencies. The same model can be used by people in private practice.
Phones, Email and Such
Another part of running a private practice is having systems in place for people to contact you and make appointments. There are any number of phone systems available, but a simple/easy solution is to simply get a separate cell phone to use for your practice. Then as you grow you can look a dedicated phone system that is HIPAA compliant and all that.
As far as email goes, Google G-Suite is one of the best options for many reasons. You can set it up to use your own domain name (it's more professional that way). Also, it is HIPAA secure if you use the business (paid) version of G-Suite. The other thing is the whole suite of applications that it comes with. These tools are very adaptable to small business and being able to manage a private practice. (Check out the full G-Suite for Therapists Course here)
For some practices, they will need a FAX service. More and more, email is replacing FAXes, but might be something you will need. S-Fax is one service I can recommend and also the one I use in my practice.
Other Office Equipment
Besides phones and FAXes, it is helpful to have a copier and printer. Again depending on where and how you are set up. It might be that the office space you are using will provide those things.
Finding and setting up an office is really not all that hard. It just takes a bit of perseverance and willingness to do some searching. Ultimately the office and equipment you pick will help you sustain and grow,
Resources Mentioned:
G-Suite for Business (This is an affiliate link to get 20% off your first year. Also, I do receive a commission for this at no extra cost to you)
Mastermind Groups- Find out more and apply here!
Other Resources for Office Set-Up
Meet Gordon Brewer, MEd, LMFT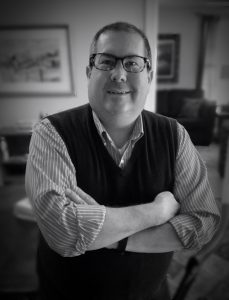 Gordon is the person behind The Practice of Therapy Podcast & Blog.He is also President and Founder of Kingsport Counseling Associates, PLLC. He is a therapist, consultant, business mentor, trainer and writer. PLEASE Subscribe to The Practice of Therapy Podcast on Apple Podcasts, Stitcher and Google Play. Follow us on Twitter @therapistlearn and Pinterest "Like" us on Facebook.